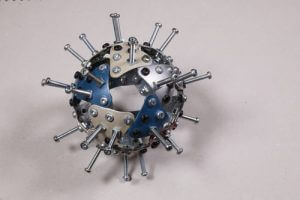 We've heard the phrase "underlying health conditions" a lot over the last few weeks.  We know that those with underlying health conditions seem more likely to get Covid 19, and are more likely to die from it.  But just what those underlying health conditions are is not usually specified.
We've also heard the phrase "cytokine storm".  This describes an exaggerated immune response with excessive levels of pro-inflammatory proteins called cytokines flooding the body and provoking severe complications such as Acute Respiratory Distress, sepsis and organ failure.
Those "underlying health conditions" are not just restricted to respiratory conditions but include obesity, diabetes, cardiovascular disease, cancer  – conditions which, it is now accepted (at least in the world of complimentary medicine), are inflammatory conditions.
We may think that inflammation is someone else's problem, but many of us are living with a low but insidious level of chronic inflammation.  One of the main causes is obesity. In the UK, one in four people is overweight.  Central fat (fat around the middle) produces those inflammatory cytokines that can trigger an inflammatory response throughout the body.  In addition, conditions such as arthritis, cancer, auto-immune conditions, gut disorders including inflammatory bowel disease, Alzheimers/Dementia, and even depression, are all thought to have inflammation as a key cause or contributor.
So, a less inflammatory lifestyle is key to avoiding a whole range of undesirable conditions, and to improving our outcomes should we develop them.  Don't wait – take action now to reduce inflammation in your body!
AVOID – INFLAMMATORY FOODS
ENJOY – ANTI-INFLAMMATORY FOODS

Any foods to which there is known or suspected intolerance or allergy
Red or processed meats (bacon, sausages, ham, salami) and organ meats
Saturated fats and hydrogenated (trans) fats
Omega 6 Refined vegetable oils e.g. corn, soy, safflower, sunflower, rapeseed oils (use Olive oil and real butter – in moderation – instead)
Fried, char-grilled/barbequed foods
Cow's dairy produce especially cheese (except butter in moderation)
Sugar
Alcohol
Caffeine
Wheat/Gluten
Shellfish
Members of the nightshade family: white potatoes, tomatoes, peppers, aubergines
Refined carbohydrates and processed foods e.g. cakes, biscuits, pastries, fizzy drinks, sweets
Smoking and passive smoking
Sedentary lifestyle
Stress

At least 5 portions of Vegetables per day (preferably organic) especially: Green leafy vegetables e.g. kale, spinach, cabbage, broccoli, Brussels sprouts, also carrots, sweet potato, squash
No more than 2 low sugar fruits  per day e.g. apples, pears, red & purple berries.  Pineapple & papaya – although higher in sugar – contain inflammatory compounds bromelain & papain
Omega 3 Fatty Acids rich foods such as:
Oily Fish – salmon, mackerel, herring, pilchards, trout
Olive oil
Flax seed and flax seed oil (not for cooking)
Organic eggs or Omega enriched eggs
Nuts and seeds especially almonds, walnuts, Brazil nuts & pumpkin seeds
Beans and lentils
Avocados
Turmeric, ginger, garlic, oregano, rosemary
Nettle tea, and Green Tea
Regular exercise, especially outdoors
Meditation/mindfulness